Sometimes there is a meeting of two art forms. In this case it is television and books. Bloody Scotland brought together 2 wonderfully, warm and funny people – M.C. Beaton and Ashley Jensen. M.C. Beaton, full name: Marion Chesney, has been writing for years, since at least the 1970s. She has written from Historical Romance to today's wonderful crime books that have a wonderful sense of humour within them. Most recently she has written Hamish Macbeth and Agatha Raisin.
Agatha Raisin has spanned over many years and she has not slowed down yet! It all began with the Quiche of Death, first published in 1992 and she has just finished her latest and 29th book in the series in 2018 – The Dead Ringer. There are now 33 books in the Hamish MacBeth series with first book being Death of a Gossip, first published in  1985 and the 33rd book also just published now, in 2018 – Death of an Honest Man.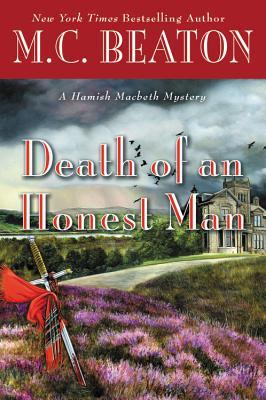 There is a now well known tv series of Agatha Raisin on Sky, starring Ashley Jensen as Agatha Raisin. M.C. Beaton acknowledged that Ashley Jensen, although doesn't look like the character described in the books, she gives all the persona that was originally written. It is fair from what was said on the night that M.C. Beaton absolutely gives her blessing to this tv series and to Ashley Jensen in the title role. The 2 appear to get on very well and from the conversation, there really is the sense that the bridge between author and actor is well has well and truly come together. On set they describe it as a family atomosphere brought each day between the actors as they all have fun and its something when pressed in the Q&A session, really came across as being absolutely genuine.
With the blessing of Ashley Jensen (and M.C. Beaton), here is a picture of them.
For a most interesting night and entertaining night out I highly recommend seeing M.C. Beaton. You won't go home glum or disappointed, whether her next event features Ashley Jensen or not. Please be aware that she was there as a guest, so may or may not feature in other events.