What is Blue, Blue, Blue – What is Blue to You?
By Crystal Horton
Rated: 

5 Stars *****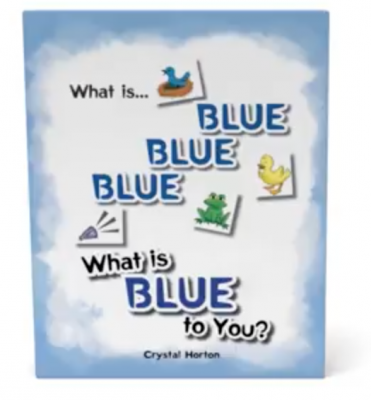 This is a children's book that has a lot of value to it, more than you would ever think.
This is a charming book. It has lovely illustrations. It is however more than that. It is an educational book. It is a good and fun book for teaching colours for a start. It is however also more than that too. It is visual in the way it has pictures relating to their colours, such as the banana is in the yellow section and is coloured yellow and the same with a blue bird, a black whale and so on. This would really assist children learning colours and encourage them to explore the world around them.
The book would be great for teaching to read colours too as each colour is said in it's particular colour, for example Blue, Green and so on. So there is colour association with the words.
In each little section of colour it asks the open-ended question – What does (and then the related colour), mean to you ie "What does Pink mean to you? and so on. This will encourage children to think about the various colours and to learn a bit about the world around them, by colour association. Parents, teachers, librarians, story-tellers etc can then take it further to enhance their exploration of the world around them. By having set questions, the book marks some of its purposes very well. It encourages interaction and conversation. The interaction with the book can take many forms, depending on the age of the child.

The book at the very beginning, in a simple form, invites children and their parents/caregivers to share. This is very much a book to bond over together (as all books are really), and to learn in a fun way in a one-to-one situation or in a group situation. It would work well with either.
This is honestly a book that would suit both pre-schoolers up to 5 year olds. It has something in it that would suit each stage of understanding and growth, educationally. This isn't just a book to idly read, this book is designed for absolute interaction with in such a positive way.
I very much rate this book, because it looks appealing and on first glance, it may come across as any other colour learning book, but with a little bit of thought and realisation of what it is actually doing and encouraging, this little book has a lot more for children to gain from it. It's a great asset to the book world for both at home and educational establishments.
With thank you to the author – Crystal Horton for sending me the book in e-book form.