First in the Fight – 20 Women Who Made Manchester


By Helen Antrobus and Andrew Simcock
Rated:5 stars 

*****
I am delighted and very excited to be part of this blog tour for the People's History Museum for their book – The First in the Fight. Expertly put together by the historian and author Helen Antrobus and Andrew Simcock, this book celebrates women who yes, are important to Manchester, but in-turn, also made a huge impact on the UK as a whole, which we still see today. So, whether you are in Manchester or elsewhere, please do take time to find out what this book is actually all about. It covers more than you would think in the lovely short sections that are just a few pages long. They certainly keep the interest going and that want to read on.
Click here for a link: Nostalgia
Click here for a link for blog tour organiser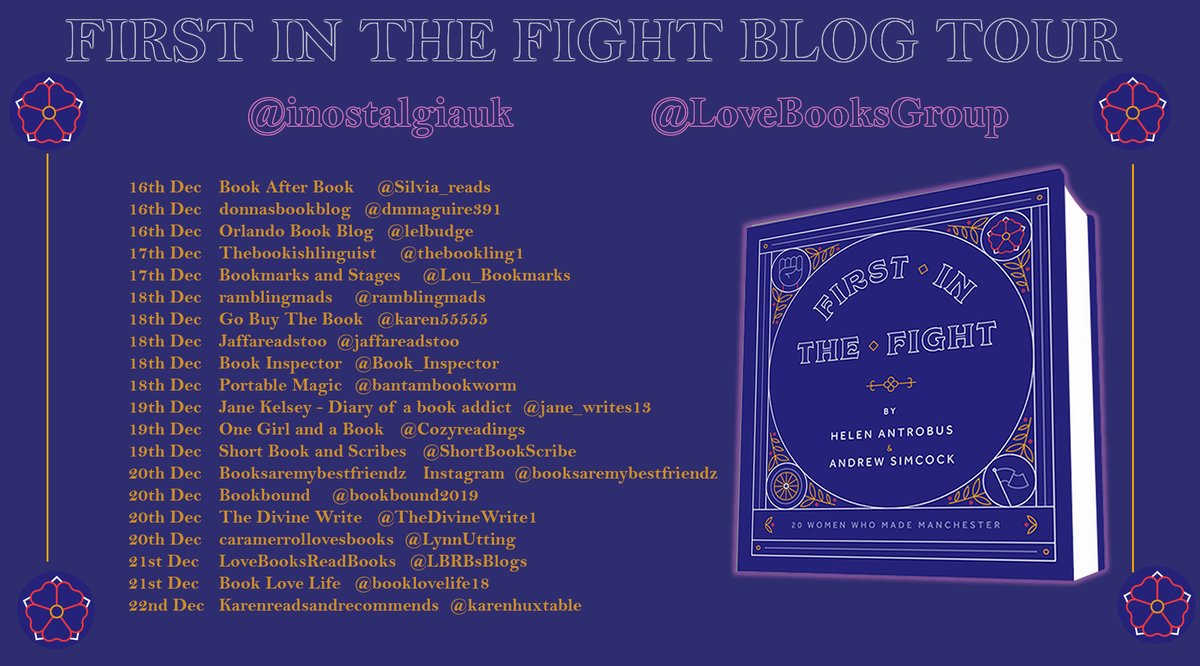 Blurb
Emmeline Pankhurst stands proudly in St Peter's Square, but she stands for so many more… From the women who marched to St Peter's Fields flying the flag for reform to the first entrepreneurs, the women of Greater Manchester have long stood shoulder to shoulder in the fight for equality and social change. For the centenary of some women being able to vote in 2018, the journey began for a statue to be erected, symbolising the incredible lives and achievements of Manchester's radical women. Glimpse at the lives of the twenty women who were long-listed in the campaign, who all made Manchester first in the fight for freedom, and feminism.
Review
Behold these women who stood up for women's rights. Some for the right to vote, others for workers rights and there are other women who inspire for other reasons as well.
This beautiful book important, influential women who have made a great impact, not just in Manchester, but across the entire UK, your mind may turn to the Pankhursts. The book does cover them, but there are also women who have done great things, who are less known or in the midst of time have been largely forgotten about, with their being at least one, almost being erased from history altogether.
This is a book I would recommend to anyone wanting to know more about social and political history and the women's lives who were part of change or achieved great things that weren't within the political sphere too. That's what is so great here, is the variety of women who are showcased in this book.
The book nicely starts off with a very interesting bit about Manchester and its history before taking each individual women and allowing readers to learn something about who they were and who they became. It certainly is a valuable book full of substance. It is beautifully presented in the way it is written, with each woman just having a just few pages about them. It is also very well illustrated from the cover right down to the pages inside. Even the front cover seems fitting and eye-catching.
Let me take you on a short journey in tim to whet your appetite for reading this book.
The women who have been so well researched for this book are:
Margaret Downes – read about her; discover what happened to her and Peterloo and some other, perhaps more prominent women who would have been around too.

Margaret Ashton – a leading lady from Lancashire who was in the fight for equality and yet later had her name all but erased for quite some time. Find out how her name resurfaced and about her upbringing that brought her perhaps to the Suffrage movement.
Mary Quaile – Born in Dublin, her family and her moved to Manchester and were from a poor working class background. Read about the her and other women who tried for equality in the workplace. Find out more about these women and the TUC here.
Esther Roper – An orphan, she was one of the first women to attend Robert Owen's College. Scots would know him for championing worker's rights at New Lanark (now a great museum). She also wanted to continue where Lydia Becker left off (mentioned further below). Delve further into this part and you'll find out more about her and her connections with suffragettes.
Ellen Wilkinson – one of the first women to be voted into parliament and is also famous for leading the Jarrow March. Read her section to find out how she ended up in parliament and a bit about her life as a child and her death.
Lydia Becker – largely forgotten in the tides of history, she had sympathies with the working class and also wrote a book about the suffragettes and set up a literary society with the focus on science. There's much to be discovered in this part about her.
Christabel Pankhurst – The Pankhursts played host to many reformers such as Keir Hardie from Scotland, William Morris – the English textile designer, activist etc and many more people, who you can discover in the book. There's interesting bits about the relationship between Christabel and Emmeline to find out too.
Sylvia Pankhurst – she had artistic and political leanings and led an interesting life in both her achievements and how family relations were with her.
Emmeline Pankhurst – Perhaps not the first in the fight for women, but perhaps one of the most well-known and influential women to fight to gain the vote. There are snippets here and there however that perhaps you may or may not already know, so it's still worth reading.
Elizabeth Gaskell – One of the most influential authors of her time who also became acquainted to other well-known authors such as Charles Dickens and Charlotte Bronte. There are other parts of her life however that is perhaps less well-known and yet also fascinating, such as charitable work, other people who she met and life in general that aren't so well-known.
Enriqueta Rylands – she came across to Manchester from Cuba, other women shouted louder, so sadly she is sometimes overlooked and yet she is just as important. She was the founder of the John Ryland's Library (perhaps a bit more well-known than herself as it is now a world landmark for literary lovers and historians. The library still exists today). Read more in this section about how she came to being in the UK, the overshadowing and her legacy to the world.
Annie Horniman – she certainly lived a varied life and not one that would instantly spring to mind. Expect the somewhat unexpected here. There are many parts to her life that are very worth reading and is written in such a way that you would really get a good impression of what this woman was like.
Olive Shapley – She presented Women's Hour in the 1930's (a radio 4 programme that still runs today) and created a safe house for women. There's even more to this woman than meets the eye and some of it quite risky for the time. So read on to find out more about this pioneering woman.
Marie Stopes – she fought for birth control and more. She, however, is a controversial woman who had (perhaps unfortunately) eugenics firmly in her sights and more can be found out in the book.
Shena Simon – she championed for better education and active citizenship (however it was Ellen Wilkinson who was the first Minister of Education in 1945), but she nevertheless seemed to do quite a lot, which can be discovered in her part.
Kathleen Ollerenshaw – one of the greatest mathematicians in the country (UK), she advocated for a lot educationally and died in 2014. There's so much of her life that would have been, perhaps unknown until now…
Louise  Da-Cocodia – the section starts with a great sounding African proverb, before moving onto her time within the NHS and being part of the "windrush" generation and creating a legacy.
Elizabeth Raffald – long before Mary Berry and Nadia Hussain and lots of other people who you can think of today who are bakers, there was Elizabeth Raffald. A woman who was making waves in the business world and unbeknown to her she has left a legacy, of which more can be read about as well as a bit about her life.
Emily Williamson – She was passionate about the conservation and preservation of wildlife. Her passion really shines through and I she would fit well in today's most influential conservationists etc such as David Attenborough and Chris Packham. Her life is different from that from the social campaigners and worth reading to uncover more.
Sunny Lowry – She swam the Channel. Again different from the social or political activists, but it shows women can do this and also take a moment to read this section as this isn't just about achieving swimming the Channel (although impressive in itself), this is about much more that came into being afterwards.

To conclude, this is absolutely a fascinating book to read a really worthwhile getting. There are so many interesting parts that aren't specifically about the women mentioned too, such as how it came about that there would be a statue for Emmeline Pankhurst and the work that went into that. There are well presented photos of this too, which were taken in very recent times. I highly recommend this book for anyone to read.