A Write-up of a talk by Peter May and Ann Cleeves
Peter May talked about Lockdown – a book about a pandemic he set in 2005 and dug it out and hadn't thought it would actually get published and he discovered that some of it was parallel to what is happening now. He had tried to get it published before, but unfortunately or fortunately, depending on your point of view, it wasn't back then. It certainly seems very apt for these times.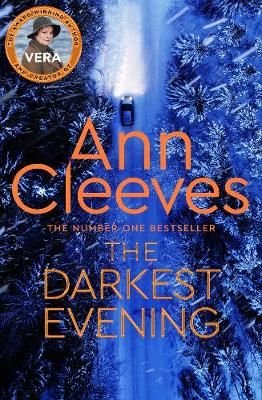 Ann Cleeves talked about The Darkest Evening and about the being so atmospheric and how snow changes a landscape. It's set in a big house in Northumberland. She talked about class and the responsibilities to those who live in the cottages and about Vera's past and her relationship to the people in the house. She says she always knew Vera was haunted by Hector and the "country-crimes" he was involved in and neglecting Vera.
Peter talked about place as in his first book written in Spain and became aware of another side to Andalucia.
Peter wrote a non-fiction book about the Hebrides and had lived there for a considerable time and says the islands now feel like "home" and says there's that sense of homecoming that he wanted to convey. He was, for his book, sent lots of photos by photographer David Wilson. It sounds a beautiful book.
Ann Cleeves says she found writing about Shetland really challenging, more so that Peter. She says she loves Shetland, but didn't enjoy doing the research at all and readers were warned that there may not be another like this, although sounds a good companion book.
They talked about how they keep track of characters and evolution of them.
Ann Cleeves says she knows Matthew quite well and isn't a planner and plotter and writes like a reader. She always has to then write the next scene to find out more. For 20 years she didn't make any commercial success, so wants it to be fun to write and discover.
Initially Vera wasn't going to be a series, due to the publisher and then she ended writing more. There's been a break because she wanted to concentrate on the Shetland series.
Peter has written 3 series and says the China Thriller series wasn't intended for a series and got a 2 book deal and were a voyage of discovery. The Enzo series was more planned and were originally published in the States, but it took 6/7 years to finish it.
It was fascinating to hear her talk about having anorexia and another having down syndrome and also about how the young are not always good at communication and all the responsibility.
Peter wrote a character who was deaf and blind and talked about the research that went into it and how he found a book about it that seemed to of had a profound effect on him.
They talked about Murder and how it is a starting point and is important, but sounds like other things like the journey and the victims are also important and there's a structure to work within to explore other characters.
They talked about how crime writing is maybe in a new "Golden-Age" and how so much more can be explored and written about and readers are also more open to writers from across the world with "Scandinoir" being popular. Crime Fiction can go into smaller, intricate details of crime fiction.
It can be watched on You Tube. Books are also available to buy.