Review of Morecambe and Vice
What's the Worst That Could Happen?
First thing in the morning of the first day of the festival, the question – "What's the Worst That Could Happen?" was posed. That very question is totally fascinating in itself, but first thing on a Saturday morning in the Midland Hotel, what was the worst thing that could happen? It turned out a lot. This was actually the title of a fascinating panel of authors who had mixed crime and the dystopian world in a believable way and some of it… well… we aren't too far off.
The panel was created of Lesley Kelly, Ceri Lowe and Matt Brolly. All of whom were excellent speakers and all seemed so comfortable and natural together. The panel was brilliantly  moderated by Tom Fisher, who seemed enthusiastic and got the authors to talk about interesting topics to do with their books and their writing experiences.
Lesley Kelly is the author of the series – The Health of Strangers, which includes killer flu, food, medicine shortages and unscrupulous politicians. This series also has some humour within it. I have written a full review of the latest book in the series that you can check out on my blog.
Ceri Lowe writes a dystopian The Paradigm Trilogy for YA. Her main two characters are 15 and 11 years old. With one of the main themes being climate change, it is about a huge storm occurs in the UK and the scars that are left. It takes the promise of a small group being rescued and stored by "The Industry Group". The author posed the hanging question of "Are they corrupt or are they saving the planet?" Read to find out…
Matt Brolly writes the DCI Lambert Novels. He spoke of the setting being in the near future in a city that has zero tolerance of crime, so has the death penalty that is automatic if the perpetrator is caught and yet a detective who is a kleptomaniac.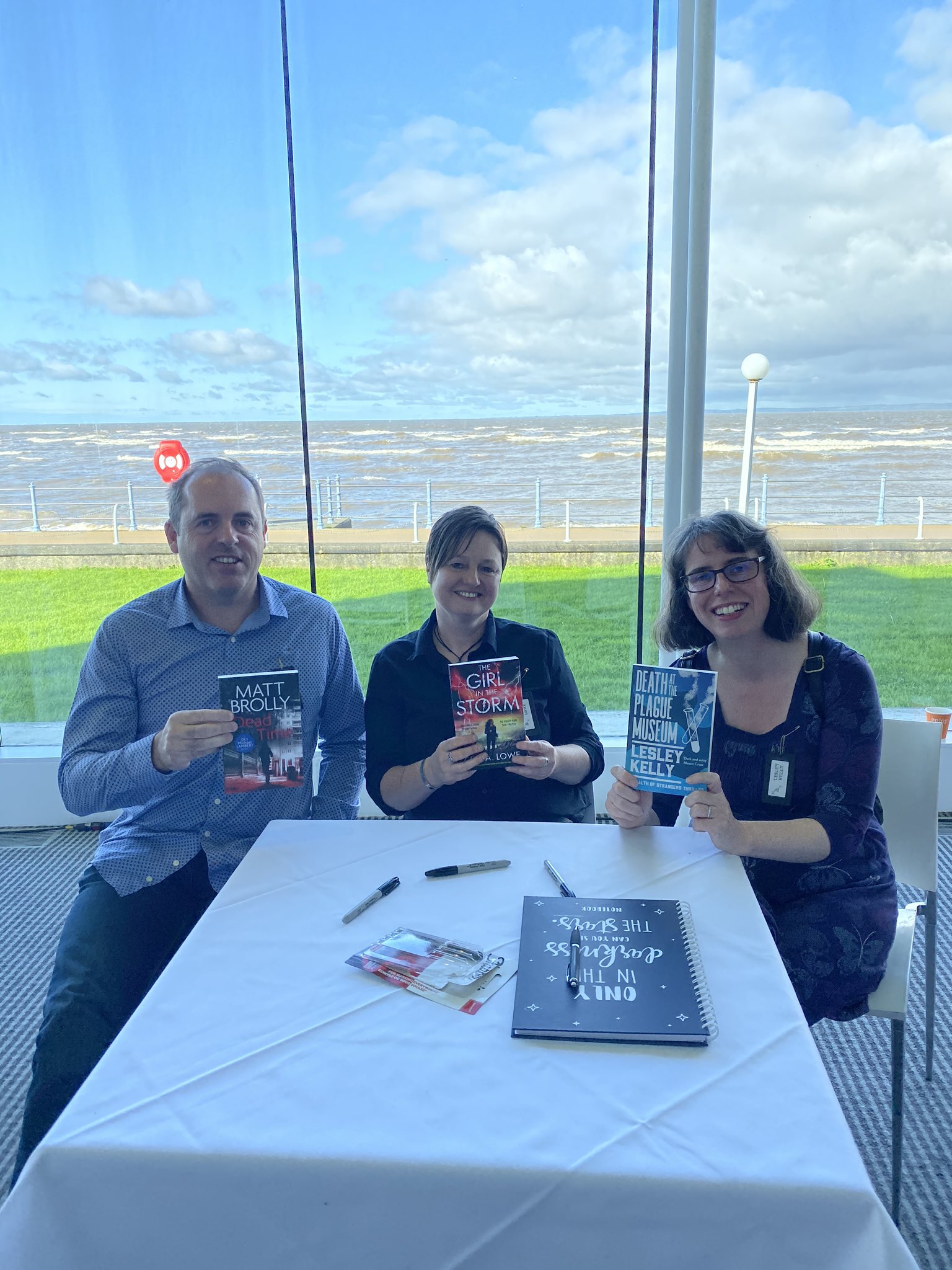 Matt Brolly, Ceri Lowe, Lesley Kelly
The discussion that ensued was very interesting. Tom had clearly done his homework and given a lot of thought. The questions were coherent and quite a large range from talking directly about apocalyptic worlds to actual world building, but also beyond the writing of the books to coping with rejection. It was a great way to start off the festival. There was something in it for wanna-be writers, the experienced writers and also readers.
I like to sometimes read dystopian novels, even though it is disturbing how close to the truth they become, but that makes them relevant and thought-provoking.
Dystopian Worlds

Matt talked about being fascinated in exploring the extremes he does of a zero tolerance of crime society. He moved away from world building in some ways and writes more about the characters and how they relate to the deterrent, so the world is essentially built through the characters he creates and is kept as close to the present as possible. The fact his book seemed so close to now made me think of the tv series Years and Years and I should think that in Matt's books there will be much for the population to ponder and also see where things may be heading if something doesn't change soon. I find people who can write like that can be quite brilliant in getting certain important messages across and they certainly made people pay attention.
Ceri is different in the fact she loves world building and then culls back on the self-indulgent parts. She reckons she could create a whole family tree as well as a companion book to show all the different relationships etc of her many characters. When she started writing, climate change was there, but there wasn't the news coverage there is now, when her first book was published. The timing of her books now however, make them more relevant than ever, although, even the first book, in my opinion, would still have been important at that time. When she spoke of how she would like to have a family tree type of companion book of character family trees, well, family trees are always intriguing and help link up people or in this case characters and can add some understanding when there are lots of characters.
The Fascination of Dystopia
Lesley, interestingly works in the voluntary sector and plans for lots of things like the flu and talked about Spanish Flu too and what a pandemic that was, with it killing the least expected of the population. It was thought-provoking when she talked about for her books, she considered, from this being an inspirational starting point, how parents and criminals would react and how "cures would be sold", as well as the government giving "pointless" health-checks. So, her world is more a controlled world that she has created within her books. It again seems so close to now. Awhile back I had the privilege of reviewing this book and it is very good and has some humour in it too, which works really well within her dystopian world.
Matt thinks there's something fascinating about the fall of routine, confronting fears and starting again.
Author Tips
The authors had great tips and words of encouragement for other writers and those interested in the process. I always find it fascinating to hear how different authors began writing and what their routines are because each is different.
Matt Brolly basically just never gave in. He was agented after 3 years, but it was 20 years until his first book was published. He says to keep writing and submitting. He was also candid in his answer about getting rejections and initially thought it was all to do with his writing. He said it isn't you personally, but just may not be their choice of book at a particular time. He also gave advice not to wait for 1 person to get back to you and to instead query as many people as possible.
Ceri wrote some short stories for some competitions and won some. She got an idea for a novel.
Lesley said she wanted to be a stand-up comedian but had children and the hours weren't conducive for her family life. She highly recommends a professional editor. She got longlisted and got feedback and got published by Sandstone.

Sage advice came from both Lesley and Matt about not comparing yourself to others at it is unhelpful. This I was thinking is something that can be applied to everyone's lives, whether they are an author or not.
Lesley's next book is Murder at the Music Factory
Matt Brolly's next book is The Crossing 
Ceri Lowe also has another book coming soon too.
It was interesting to hear what books the authors read too.
Lesley likes Stephen King.     Matt Brolly also likes The Stand by Stephen King and The Road by Cormac McCarthy.      Ceri likes Margaret Atwood
If you ever get the opportunity to see Lesley Kelly, Matt Brolly or Ceri Lowe, I highly recommend that you do. Thanks to them also for interesting and warm chat after their event.
Below are images of their latest books.